We know that owning a home is expensive and that it can be easy to fall behind on property tax payments. We also know the hardships that falling behind on your property taxes can bring; tax liens placed against your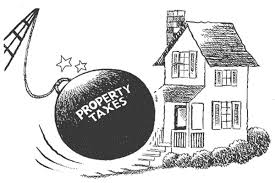 property or you could lose your home completely. But don't worry… Cash For My House can help!
Let us buy your home for all cash before you get hit with the headaches and financial responsibilities of delinquent taxes. For Florida homes, including homes in Jacksonville, Middleburg and Orange Park, property tax payments are due April 1, 2017. We can close quickly and help you whether you are already behind on tax payments, or are concerned you won't be able to pay before the upcoming April 1 deadline. 
Understanding Florida Property Tax Lien Sales and Tax Deed Sales
If you don't keep up with the property taxes on your Florida home, you could lose your house. First the delinquent amount becomes a lien on your home, and then, if you don't pay the lien, the tax collector will sell your home in a tax deed sale where the property is sold at auction to the highest bidder. If you are struggling to pay your property taxes, call us today, we can make you an all cash offer on your Florida home before you get hit with liens, hefty late fees and complications.
We are able to purchase properties in any situation or condition. Since we pay all cash we can close quickly, and we promise a hassle-free, transparent process.
If you are interested in receiving a no-obligation, all-cash offer for your home, please give us a call at (904) 574-5737  or fill out our easy online form here. 
---
Cash For My House is one of Florida's most respected home buying services.  We buy houses in Jacksonville, Orange Park, Middleburg, and all across Florida, including Martin, St. Lucie, Palm Beach, Broward and Miami-Dade counties. We purchase homes in any condition and help property owners just like you. Don't spend your own money on repairs, renovations, remodeling or clean-up. Let us purchase your house, regardless of condition. We are actual home buyers who purchase properties with our own cash; this allows us to make you an offer on the spot and to close quickly. We promise a hassle-free and transparent process with no fees or commission.